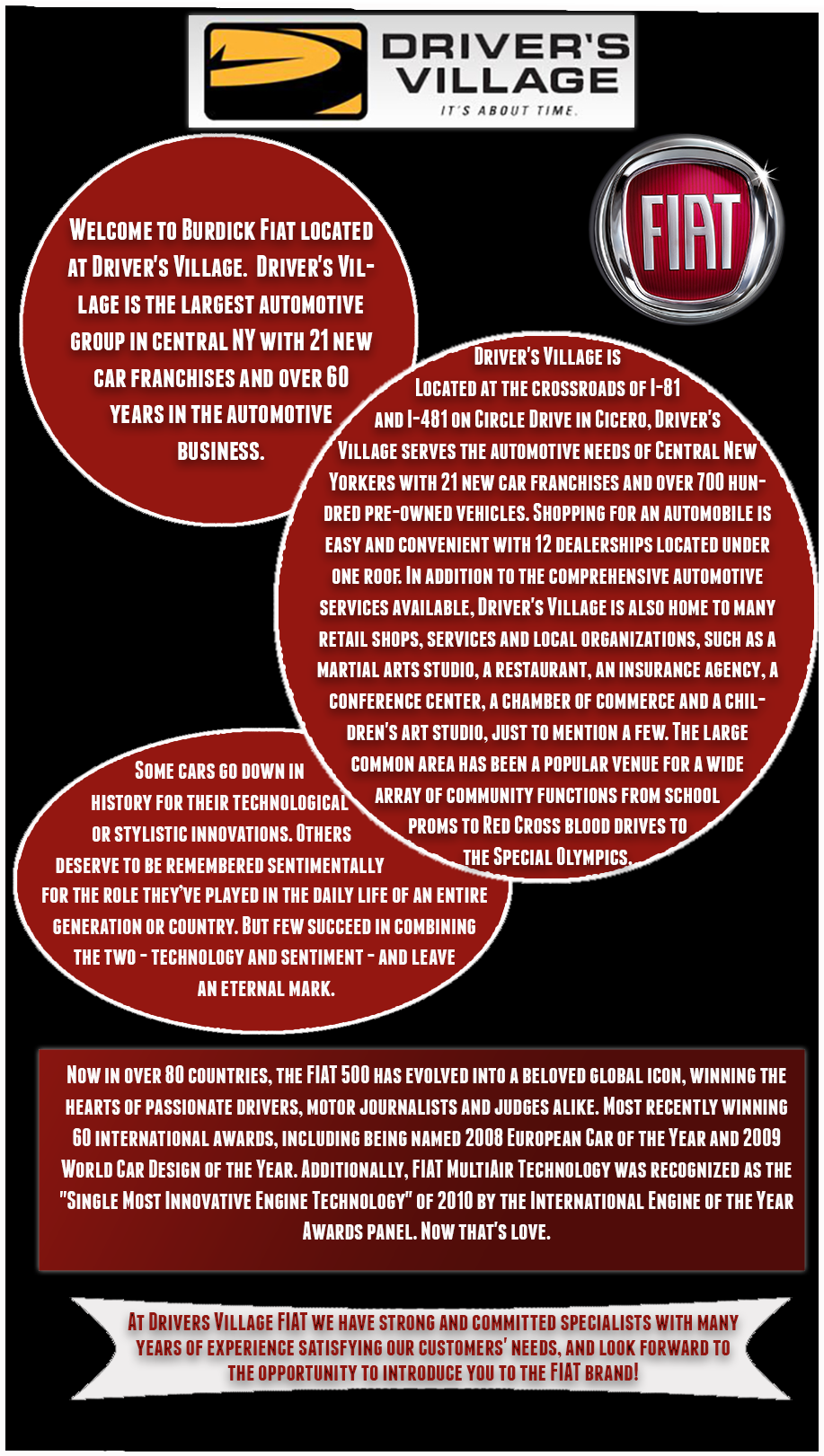 Welcome to Burdick Fiat located at Driver's Village. Driver's Village is the largest automotive group in central NY with 21 new car franchises and over 60 years in the automotive business.
Driver's Village is located at the crossroads of I-81 and I-481 on Circle Drive in Cicero, Driver's Village serves the automotive needs of Central New Yorkers with 21
new car
franchises and over 700 hundred
pre-owned vehicles
. Shopping for an automobile is easy and convenient with 12 dealerships located under one roof. In addition to the comprehensive automotive services available, Driver's Village is also home to many retail shops, services and local organizations, such as a martial arts studio, a restaurant, an insurance agency, a conference center, a chamber of commerce and a children's art studio, just to mention a few. The large common area has been a popular venue for a wide array of community functions from school proms to Red Cross blood drives to the Special Olympics.
Some cars go down in history for their technological or stylistic innovations. Others deserve to be remembered sentimentally for the role they've played in the daily life of an entire generation or country. But few succeed in combining the two - technology and sentiment - and leave an eternal mark.
Now in over 80 countries, the
FIAT 500
has evolved into a beloved global icon, winning the hearts of passionate drivers, motor journalists and judges alike. Most recently winning 60 international awards, including being named 2008 European Car of the Year and 2009 World Car Design of the Year. Additionally, FIAT MultiAir Technology was recognized as the "Single Most Innovative Engine Technology" of 2010 by the International Engine of the Year Awards panel. Now that's love.
At Drivers Village FIAT we have strong and committed specialists with many years of experience satisfying our customers' needs, and look forward to the opportunity to introduce you to the FIAT brand!